XiaoMi 16,000mAh Power Bank Review: Monstrous Lifesaver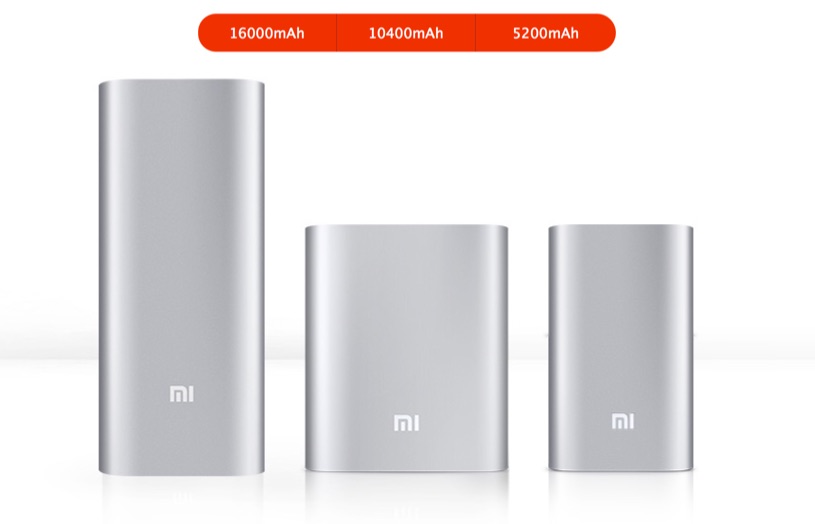 XiaoMi's Power Bank Family
With the increasing number of non-removable batteries in flagships (even Samsung has moved away from its trademark Galaxy trend, which is SD Card and removable battery), the option to buy a spare battery is no longer a viable option. However, since we have to move forward with technology, we have no choice but to accept and adapt ourselves to these changes. What should we do, then? Simple, get power packs (or power banks, say a few people).
The Power Bank's Official Shot
I've just got myself this little guy. Manufactured by the increasingly popular Chinese brand Xiaomi, this huge-but-compact power pack houses a total of 16,000mAh worth of juice (although Xiaomi also offers smaller 5,000 and 10,400 choices as well) to extend your gadget's life. It's quite affordable, it's compact, it's heavy, and it looks quite sexy. So, should you buy this thing? Let's find out, shall we?
Packaging and Design
Packaged neatly in a white box
The packaging is quite different compared to the brand's smartphones. If their smartphones are housed in a brown box, the power pack is housed in a clean white box. Inside, you'll find the power bank, along with a booklet and a short USB cable. Just like other power packs out there, you don't get a power adapter. Well, I guess those guys in the lab think that if you're smart enough to get a power bank, you already have a smartphone and therefore, a wall adapter.
A ridiculously short USB cable is bundled with the power unit
Anyway, let's move on to the main unit. Looking at the specs sheet, the power pack has a dimension of 145x60.4x22mm and weighs 350g. Unfortunately, I don't have a scale to prove the weight. However, all I can say is that it's noticeably bulkier and heavier than other power packs I've used before. That's good to hear actually, since the first and simplest way to measure a battery's capacity is by holding it. A 8,000mAh battery is heavier than 5,000mAh and so on. If a 10,000mAh pack is as heavy or even lighter than a 5,000mAh, you have every right to be suspicious.
The power bank is as long as an ASUS
ZenFone2, but much heavier.
It's way thicker than the ASUS ZenFone2
Its aluminum enclosure looks neat and gives out exclusive and sophisticated look, actually, along with the trademark 'mi' logo on the unit. All the ports and buttons (4 white LEDs indicating charge stored in the unit, a couple of USB ports for outgoing current and a single micro USB port for charging the device) are put on the top of the device. There's nothing on the sides, while the specs are printed on the bottom of the unit.
The top part of the device
Actual Testing
The device is advertised as having 16,000mAh capacity so in theory, it should be enough to charge a handful of smartphones before screaming "Charge me!" and that's what I did. Both ports are capable of outing 2.1A of currents. However, when used simultaneously, only 3.6V of currents can be outed, which probably means that one will out 2.1V while the other will out 1.5A. Oh, and it's worth noting that the LEDs blink according to the capacity left as it is charging other devices.
The unit's specs according to the packaging
Unit specs written on the bottom of the unit
That's what I did. I connected two devices at once, a ZenFone2 and a Samsung Galaxy S4. One with the included cable, and the other with another OEM cable. Without pressing any buttons, both phones are charged as soon as they're connected. Please keep in mind that this is the trait of the original XiaoMi power bank (there are fake units all around the Internet). The power button only serves as resetting the charger unit and checking the amount of power left in the device. While charging, fortunately, the unit doesn't emit excessive amount of heat, which is great.
If you look closer at the screens, both phones were being charged
simultaneously
Both devices were charged from approximately ~20% of capacity, and with them being full, the unit still has ~75% of power left (3 out of 4 LEDs were blinking when I checked). I can't exactly point out the numbers, but you get the picture. With that much capacity, I doubt you'll try looking for a power outlet ever again.
When you see only one LED blinking, leave it be. It's going to take hours
to charge...
Next is refilling. XiaoMi doesn't bundle an AC adapter with the unit, but I'm pretty sure that you have one already coming from your smartphone. With Samsung's 2.1A AC adapter, it took approximately 7-8 hours to charge from empty to full. Please keep in mind that I used a 2.1A adapter. It'll take longer than that to use an adapter with lower current. My advice? Charge it when you're going to bed and I'm sure it'll be full when you wake up… hopefully. Oh, and another advice: try not to charge it from your computer. Not that it won't work, but it'll take forever to charge. Trust me.
Conclusion: One Hell of A Power Unit
Well, after previously using numerous power banks, I have to admit that I like this one the most. Usually, I'll go for design and compactness instead of capacity but this power bank made me change my mind. Yeah sure, it's heavy and bulky, but it'll give you enough juice to keep whatever your phone is for a day, or perhaps more. Get one of these, and you will never worry again about your smartphone running out of power.
Anyway, here's what I find from this review:
Pros:
Neat and sophisticated design with premium materials

Exceptionally massive capacity

High port current make charging faster
Cons:
Takes forever to charge

Bundled USB cable is too short for practical use
Well, I guess that's all for now, Folks. I hope you'll find this review useful. At the moment, I'm currently writing a piece to determine whether your XiaoMi power bank is genuine or not. I've already gathered information from various sources in the Internet, as well as comparing them with the unit I've just reviewed (thank God mine is genuine). It shouldn't be long until the article is up. So, until then, thanks for visiting and have a very nice day, everyone!